Fashion>>Costumes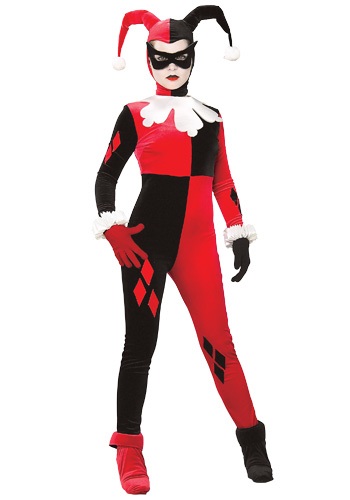 Every since Dr. Harleen Quinzel fell head-over-heels for the crown prince of crime, the Joker, we've had a soft spot for Harley Quinn. There's been a lot of different incarnations of Haley over the years. Harley as fighter, Harley as ditz, Harley as independent woman… all of which we love. But of course, it all goes back to the original red-and-black harlequin Harley from the Batman animated TV show. And what's not to love? That New-Yorker accent? Those killer pop-guns, play weapons, and silly sense of humor? Her natural gymnastic talents? Her adorable babies (as much as you can find hyenas adorable)? All good things that made us smile in glee when this perky princess of crime came on screen. Harley Quinn is without a doubt our favorite Gotham City Siren.Which is why we would totally geek out if we saw you in this outfit. This outfit is iconic. Our Harley Quinn Costume is (in our opinion) the best version of Harley: the original. This costume includes an officially licensed red and black velour jumpsuit (zipper in back) with signature red and black diamonds. There's a white scalloped collar, the pointy red and black jester's hat with pom poms, 2 boot covers, and a black eye mask. Once you put it on, you'll look and feel just like Joker's favorite Harley girl! Although, no matter how much you feel like Harley, we highly recommend you don't knock over any banks. That's bad news, Harley or no.
Material: Polyester
Item: RU888102
Price: $49.99
Latest Posts
Transform your child into Carol Danvers, aka Captain Marvel, the ultimate hero. The Captain Marvel Deluxe Child Costume will have you saving the day!
Popular Posts
Get into the Christmas spirit with two of Disney's most iconic characters! The Mickey & Minnie Christmas- 14oz Ceramic Mug is officially licensed and microwave and dishwasher safe.