Fashion>>Costumes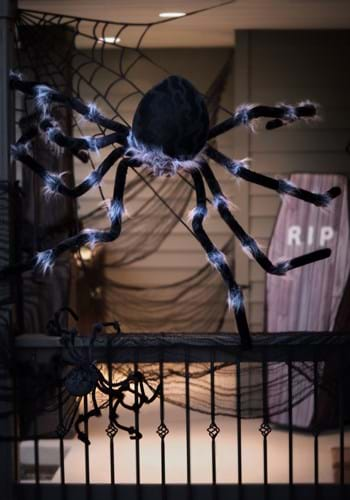 You know how it goes: there are Halloween parties, and there are HALLOWEEN PARTIES. There are haunted houses, and then there are HAUNTED HOUSES. Some Halloween hosts just invite folks over and expect the fun to take care of itself (lame). But you know that the best parties are the ones that people remember, the ones that are larger than life and create an experience that lives on in the mind forever! And those other parties? How should you know? You've forgotten them already!But one experience no one will ever forget is that time they ran into a 50" spider! Now, that could happen at your super-scary HAUNTED HOUSE or not, but that's really up to you. So what's it going to be? A regular ole' bash, or an ALL HALLOW'S EVE BLOWOUT? Good choice! This spider can be moved into different positions, and is basically terrifying even to the least arachnophobic folks out there–something about its sheer size makes it totally frightening. All the more reason to grab a few of these giant spiders and get ready to party in infamy.
Material: Polyester
Item: SN18398A
Price: $9.99
Latest Posts
Transform your child into Carol Danvers, aka Captain Marvel, the ultimate hero. The Captain Marvel Deluxe Child Costume will have you saving the day!
Popular Posts
Get into the Christmas spirit with two of Disney's most iconic characters! The Mickey & Minnie Christmas- 14oz Ceramic Mug is officially licensed and microwave and dishwasher safe.