Fashion>>T-Shirts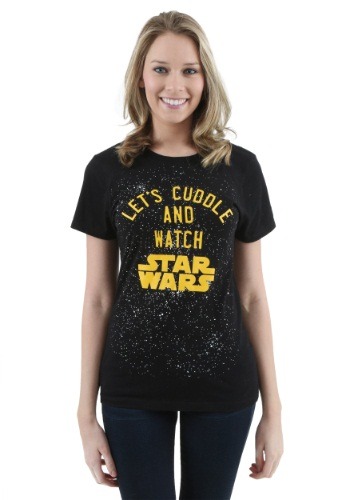 There are a rather finite number of perfect sentiments in the world. "Here, have this free money," for example, is one of the favored things an individual might say. Of course, even that kindly offer comes with a certain degree of doubt. You have to wonder when the other shoe is going to drop… what sort of trick is up their sleeve. So, that one has to get thrown out. Ya just can't trust something like that! The next is probably, "I have an extra cupcake—want it?" Now, that seems a lot like the free money, but the fact that it is cake pretty much makes the gamble totally worth it. We highly recommend accepting the free cupcake and then, just to be safe, promptly bringing it to us for further investigation.But, that aside, the best idea that anyone can come up with here at the office is the invitation to watch the entire Star Wars series while enjoying a delightful cuddle. But, both those ideas are so great that we doubt many would get the entire idea out before a potential cuddle- or Star Warsing-partner would shout out a yes, thus inadvertently spoiling the full sentiment. Well, they say that a picture is worth a thousand words… but that's too many. So, we've discovered that a t-shirt is worth precisely six! So, enjoy this Star Wars Let's Cuddle T-Shirt and convey exactly what you mean without even having to say a word!
Material: Cotton (100%)
Item: MFA6603KAF1
Price: $4.99
Latest Posts
Transform your child into Carol Danvers, aka Captain Marvel, the ultimate hero. The Captain Marvel Deluxe Child Costume will have you saving the day!
Popular Posts
Get into the Christmas spirit with two of Disney's most iconic characters! The Mickey & Minnie Christmas- 14oz Ceramic Mug is officially licensed and microwave and dishwasher safe.