Fashion>>T-Shirts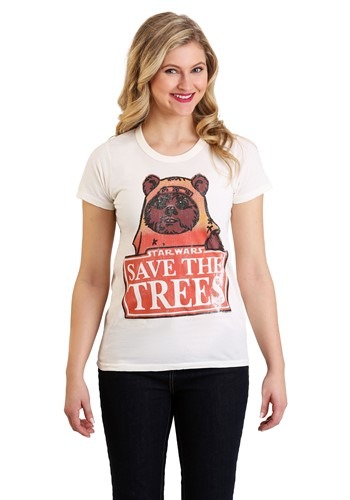 Straight from Endor comes this Women's Junk Food Ewok T-shirt. It features a vintage image of an Ewok emblazoned on its front with an important message: "Save the trees." And, really, isn't that something we can all get behind, Rebel or Imperial, light-sider or dark? They might not be very outdoorsy in their elegant black fabrics, but even Sith need to breathe.No one loves the trees like the Ewoks. They worship their spirits, and protect their ancestor trees from the villainous Duloks and Morag the Tulga Witch, who would see the Great Forest burn without a second thought! What, do you not remember that part of Star Wars? Clearly you weren't watching enough TV in the 80s, because the Ewoks and their bizarre fantasy world of Endor was a staple of live-action and animation, with all the other Star Wars elements removed. So next time you're playing "drop the sack" down in the woods, think of Wicket, Paploo, Logray, and all your other Ewok friends, and try to be a little more green.
Material: Cotton (100%)
Item: JUSW1394710
Price: $16.99
Latest Posts
Inside everyone, is a hero. Show off your inner hero with the Captain Marvel Kree Suit Deluxe Child Costume!
Transform your child into Carol Danvers, aka Captain Marvel, the ultimate hero. The Captain Marvel Deluxe Child Costume will have you saving the day!
Popular Posts
Get into the Christmas spirit with two of Disney's most iconic characters! The Mickey & Minnie Christmas- 14oz Ceramic Mug is officially licensed and microwave and dishwasher safe.