Fashion>>Costumes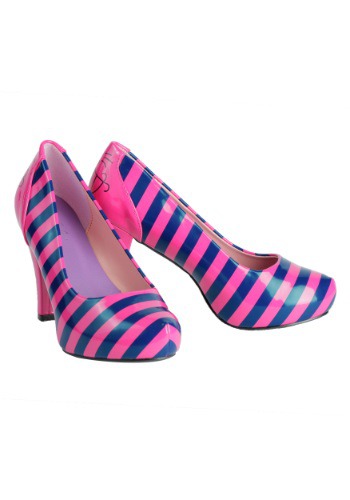 Some say "the clothes make the man," but we say, "the shoes make the costume." And we're pretty much never wrong.But you know who is wrong?Those partygoers–you know the ones. The people who want to dress up without the determination to see it through. You have always disliked these guests. Why go to a costume party–you wonder–if you're not going to totally transform into someone else? But you are not one of those people. Nope. You go all in when it comes time to dress up! You will look perfect from the top of your head to the tip of your toes, no matter what. And thus, your choice to dress as the Cheshire Cat this year (excellent decision, if we do say so ourselves) can mean that none other than these Women's Cheshire Cat Heels will grace your feet.They match the Cheshire Cat's signature pink and purple stripe pattern, and the faux patent leather will shine like a cat's eyes through a dark night. With a printed cat face (for emphasis) and a four-inch heel (for sass), these pumps are 100% prepared to help you to truly embody the infamous Cheshire Cat!
Material:
Item: EE414KITTY
Price: $14.99
Latest Posts
Transform your child into Carol Danvers, aka Captain Marvel, the ultimate hero. The Captain Marvel Deluxe Child Costume will have you saving the day!
Popular Posts
Get into the Christmas spirit with two of Disney's most iconic characters! The Mickey & Minnie Christmas- 14oz Ceramic Mug is officially licensed and microwave and dishwasher safe.