Fashion>>Costumes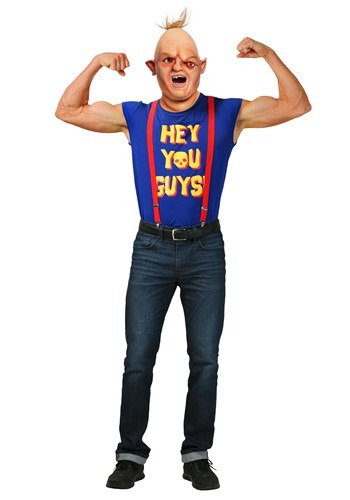 Life for Sloth before meeting Chunk and the rest of the Goonies was abysmal. In fact, we don't even like to think about it because it was so horrific. Poor Sloth, locked away in a room and mistreated for a majority of his life by his own flesh and blood! This leads us to wonder, what else happened to Sloth before Chunk rescued him… We do know that the middle Fratelli brother was allowed to watch television while he sat in his dingy cell, but what kind of TV programs would keep this big guy completely entertained? Do you think he was entranced by the show, Celebrity Plastic Surgeons of Beverly Hills? Maybe he was making a long mental list of all of the cosmetic surgeries he wanted to get done once he busted out of his dilapidated room. Or perhaps he spent most of his day being consumed by the History Channel. Sloth could very well be the most knowledgeable person when it comes to historical facts! Or maybe he's a game show wiz who plans on going on Jeopardy or Wheel of Fortune and taking home a large cash price?Now, you can take it upon yourself to make all of Sloth's dreams come true. Decide what those dreams are, wear this officially licensed Goonies costume, then get out there and make those dreams come true. This costume comes with the "hey you guys" t-shirt, suspenders, and the mask. Don the costume and help Sloth make all of his potential dreams into a reality!
Material: Polyester
Item: FUN2240AD
Price: $49.99
Latest Posts
Transform your child into Carol Danvers, aka Captain Marvel, the ultimate hero. The Captain Marvel Deluxe Child Costume will have you saving the day!
Popular Posts
Get into the Christmas spirit with two of Disney's most iconic characters! The Mickey & Minnie Christmas- 14oz Ceramic Mug is officially licensed and microwave and dishwasher safe.