Fashion>>Costumes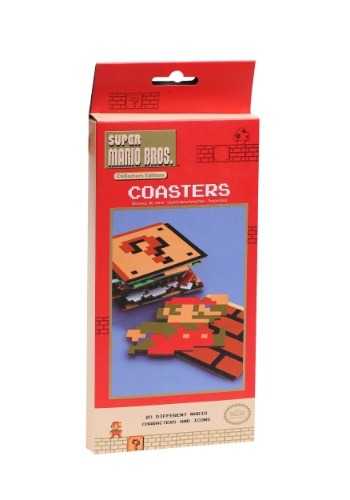 Mario and Luigi just never cease to amaze us at how helpful they are. Each game that they star in, it seems like they're lending a hand to those in need! He and his brother have spent decades doing good deeds. Why, they rescued poor Polly from the clutches of Donkey Kong. They stopped King Koopa from taking over the Mushroom Kingdom and they've even been known to help fix clogged kitchen sinks. Now, they're here to protect your furniture from the dangers of unsightly waters stains with these Super Mario Bros coasters.These coasters boast an awesome new method of water stain protection. Each coaster is shaped like characters and objects from the classic video game for the NES, which include Mario, question boxes, Koopa Troopas, Goombas, Bullet Bill and more. Just place them on your coffee table to add a layer of protection between your drink and the surface. It's the perfect gift for any fan of the Mario Bros games.
Material: Cardboard
Item: PALPP2922NNTX
Price: $7.99
Latest Posts
Inside everyone, is a hero. Show off your inner hero with the Captain Marvel Kree Suit Deluxe Child Costume!
Transform your child into Carol Danvers, aka Captain Marvel, the ultimate hero. The Captain Marvel Deluxe Child Costume will have you saving the day!
Popular Posts
Get into the Christmas spirit with two of Disney's most iconic characters! The Mickey & Minnie Christmas- 14oz Ceramic Mug is officially licensed and microwave and dishwasher safe.