Fashion>>Costumes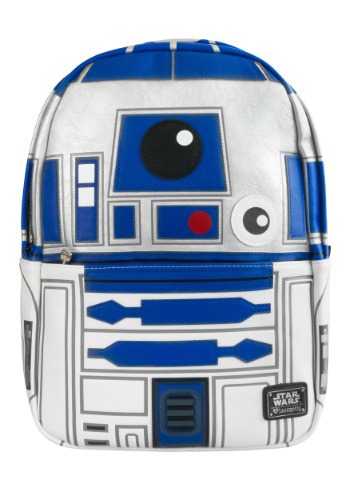 The galaxy far, far away is one dangerous place, especially if you don't have a protocol droid with you. Just look at all the times that Luke Skywalker would have been completely hosed if he didn't bring R2-D2 along with him! His X-Wing probably would've crashed during the Death Star trench run. Yoda probably would have stolen all of Luke's stuff if R2 hadn't intervened and he wouldn't have been able to sneak his lightsaber into Jabba's Palace to save Han. Luke never left home without R2 and neither should you!This Star Wars R2-D2 backpack gives you a version of the iconic droid that you can carry with you anywhere. The backpack is made of a faux leather material and has all the details of the droid designed right into it, from his bulbous eye to the blue and white details from the movies. It's the perfect place to store your lightsaber, should you decide to infiltrate Jabba's Palace, but it's also ready to carry your books and whatever else you might need on your day to day journeys.
Material: Faux Leather
Item: LFSTBK0037
Price: $39.99
Latest Posts
Transform your child into Carol Danvers, aka Captain Marvel, the ultimate hero. The Captain Marvel Deluxe Child Costume will have you saving the day!
Popular Posts
Get into the Christmas spirit with two of Disney's most iconic characters! The Mickey & Minnie Christmas- 14oz Ceramic Mug is officially licensed and microwave and dishwasher safe.