Fashion>>Costumes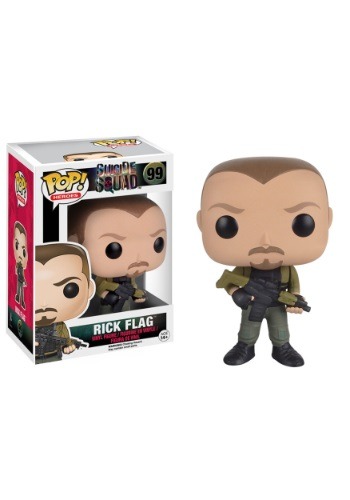 Rick Flag has a pretty rough job. Trying to keep a bunch of known in line is like trying to herd cats. One second the mission is going fine and the next moment, Harley Quinn is running off by herself into a gang of evil monsters while Captain Boomerang is breaking into a bar to steal some top shelf liquor. But that's just how it goes when you're the leader of the Suicide Squad! Now, you can have Rick commanding you when you add this Rick Flag POP vinyl to your DC collection.This Rick Flag POP vinyl looks like a tiny version of Joel Kinnaman and… wait a second. Is this the first time a character played by Joel Kinnaman got a POP vinyl version? After co-starring in The Killing and doing that RoboCop reboot? Sorry, we just distracted. It's about time Mr. Kinnaman got a POP vinyl! This Funko POP vinyl makes for the perfect collectible for Suicide Squad fans… or Joel Kinnaman fans.
Material: Vinyl
Item: FN8404
Price: $6.99
Latest Posts
Inside everyone, is a hero. Show off your inner hero with the Captain Marvel Kree Suit Deluxe Child Costume!
Transform your child into Carol Danvers, aka Captain Marvel, the ultimate hero. The Captain Marvel Deluxe Child Costume will have you saving the day!
Popular Posts
Get into the Christmas spirit with two of Disney's most iconic characters! The Mickey & Minnie Christmas- 14oz Ceramic Mug is officially licensed and microwave and dishwasher safe.