Fashion>>T-Shirts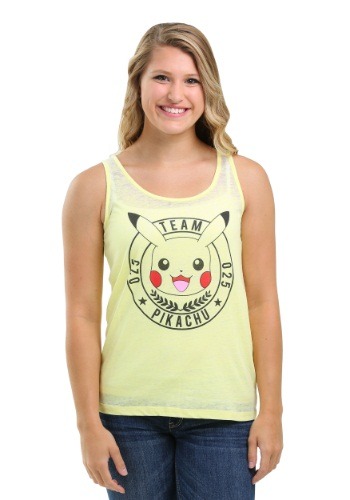 Forget all the other starters… we're Team Pikachu all the way!Let's just pretend like we all got whisked away to a virtual world where Pokemon actually did exist (how awesome, right?!). Suddenly, everyone would forget about their day jobs and we would all just walk around trying our darnedest to be the best trainer ever, catching Pokemon left and right. Of course, we would need to pick a starter and we thought long and hard about which one we would choose and we have to say that we would go with Pikachu, Just like Ash, we would love walking around with the electric type Pokemon, not only because he's adorable, but we love it when he does his Thunder Shock attack!Now when you wear this Team Pika racerback you can pretend like you're hanging out with your dream starter Pokemon. It's a soft and comfy tank that is perfect for wearing on hot days when you're walking around town checking off Pokestops. Pick up a red hat and you'll rally having the perfect outfit for when you're collecting the virtual anime critters!
Material: Cottonblend
Item: FZMUSJ094
Price: $9.99
Latest Posts
Inside everyone, is a hero. Show off your inner hero with the Captain Marvel Kree Suit Deluxe Child Costume!
Transform your child into Carol Danvers, aka Captain Marvel, the ultimate hero. The Captain Marvel Deluxe Child Costume will have you saving the day!
Popular Posts
Get into the Christmas spirit with two of Disney's most iconic characters! The Mickey & Minnie Christmas- 14oz Ceramic Mug is officially licensed and microwave and dishwasher safe.