Fashion>>T-Shirts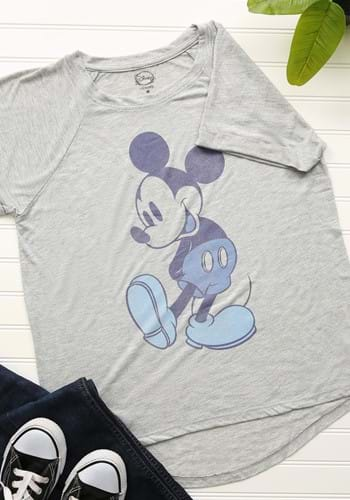 Oh Boy! Did you know that Plane Crazy was Mickey Mouse's very first Disney flick, but that it was Steamboat Willie tat made him famous? It's true! Plane Crazy – while obviously still totally adorable, since it starred everyone's favorite mouse – didn't really connect with audiences the way Steamboat did. While both were essentially silent movies, Steamboat Willie was one of the first cartoons to feature synchronized sound. And if audiences hadn't loved Steamboat Willie so much, the mascot of the Disney company would have been another character named Oswald the Lucky Rabbit! Can you even imagine The World of Disney without that lovable mouse? We certainly can't!Which reminds us of another fun fact: Did you know that Disney originally wanted to name him Mortimer Mouse? Once again, so true! Walt Disney was all set on Mortimer Mouse, until his wife, Lillian, told him she thought it sounded pompous and suggested the more kid-friendly Mickey. Talk about a smart dame:The Mortimer Mouse Club just doesn't exactly have the same ring to it, does it?Our beloved Mickey Mouse sure has come a long way, and now, you can have the t-shirt to prove it! This Mickey Mouse Blue Tones Juniors Hi Low Roll Sleeve T-Shirt is an officially licensed Disney item, and features a vintage image of the iconic Disney character! Yet with rolled sleeves that have invisible stitches to hold the roll and a fashion hem line, you'll still look totally on-trend while repping the history of the world's favorite cartoon character! And how!
Material: Polyblend
Item: FZMYSJL72
Price: $12.99
Latest Posts
Transform your child into Carol Danvers, aka Captain Marvel, the ultimate hero. The Captain Marvel Deluxe Child Costume will have you saving the day!
Popular Posts
Get into the Christmas spirit with two of Disney's most iconic characters! The Mickey & Minnie Christmas- 14oz Ceramic Mug is officially licensed and microwave and dishwasher safe.