Fashion>>Costumes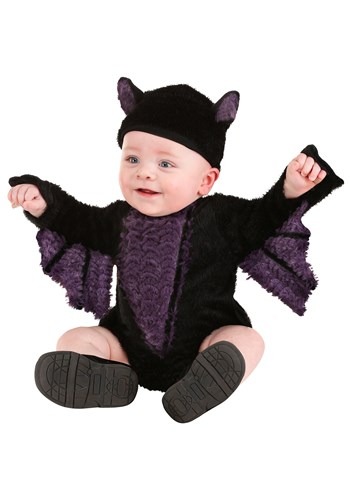 The Crawl of the WildWe know, we know—watching your kiddo crawl around on the floor is totally adorable…at first. You took tons of video of them scooting to and fro. But now? Now, you're recognizing it's not a super-efficient mode of transportation. Surely, if your infant could say, fly, your life would be much easier! Think how much time you could save. Imagine if, instead of crying in their crib, they could fly into your room in the middle of the night and nestle themselves beside you in bed without having to wake you. Or if every time you needed to go to the store, your infant could just hold onto you and flap its wings to transport you there. We know, it's not possible! Or…is it?With this sweet Infant Bat Costume, your little cutie can soar around looking fly and feeling cozy! No more crawling slowly from one side of the room to the other, or awkwardly hauling themselves up using the coffee table. No, your critter will be as aerodynamic as they are adorable, and all while bringing you the good luck that bats are said to bestow upon anyone they visit. We'd say this costume is turning into a pretty good parenting hack!Fun DetailsThis cuddly costume instantly transforms your baby into a black bat! Which works, seeing as your baby is practically a nocturnal creature, anyway. This fuzzy romper features long sleeves with wing panels, and the look comes with a coordinating skullcap complete with little bat ears! So not only can your kid zoom around life now, but they can do so while looking adorable!Echolocation, location, locationWho knows? Maybe your baby's ability to fly will help you get more done in your days. Or maybe it will simply turn your home into the sweetest, most cuddly cave on Earth, one you never want to leave…unless you're being flown around town by your best baby bat!
Material: Faux Fur
Item: PR4391
Price: $39.99
Latest Posts
Transform your child into Carol Danvers, aka Captain Marvel, the ultimate hero. The Captain Marvel Deluxe Child Costume will have you saving the day!
Popular Posts
Get into the Christmas spirit with two of Disney's most iconic characters! The Mickey & Minnie Christmas- 14oz Ceramic Mug is officially licensed and microwave and dishwasher safe.