Fashion>>Costumes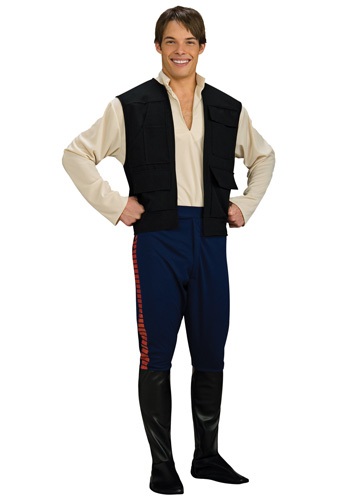 There is no one more recognized in all of certain galaxies than the scoundrel who managed to push the Millennium Falcon to make the Kessel Run in under 12 parsecs. Of course, that sounds like time. If it were, that might be enough to earn himself a honorary title among the black market traders of the little-known galaxy. But, the captain with the most has even more clout than you'd think. It is distance that he shaved off the run. How does one manage to travel an illicit trade route in less a distance than anyone else? Well, the lunatic just doesn't see black holes as that much of a bother! By zooming closer than anyone else would dare (and in a fully loaded ship, no less), he cut down travel distance—and time—all while avoiding detection.If that wasn't reason enough for his fame, of course, there are all of his other notorious connections. Conning Jabba, firing at Darth Vader's ship, smooching princesses, and teaming up with the last Jedi in the galaxy… and all while looking smashing as heck! No wonder the galaxy is collectively jealous of the man.But, you need not feel a moment of envy because you can step right into the role of the galaxy's most famed space pirate with this officially licensed Han Solo Deluxe costume from Star Wars. You'll look just like the scruffy looking nerf herder, but remember to keep a cool head, even when confronted by bounty hunters, Imperial patrols, and constant ship breakdowns. Above all, be ready to fire first—because the man who waits is the man who gets shot! The navy pants feature a Corellian bloodstripe but the cream colored shirt and iconic black vest are going to make the most obvious recognition. Just ensure that you've got your blaster at your side, because that Greebo is not going to wait this time around!
Material: Polyester
Item: RU888740
Price: $54.99
Latest Posts
Transform your child into Carol Danvers, aka Captain Marvel, the ultimate hero. The Captain Marvel Deluxe Child Costume will have you saving the day!
Popular Posts
Get into the Christmas spirit with two of Disney's most iconic characters! The Mickey & Minnie Christmas- 14oz Ceramic Mug is officially licensed and microwave and dishwasher safe.