Fashion>>Costumes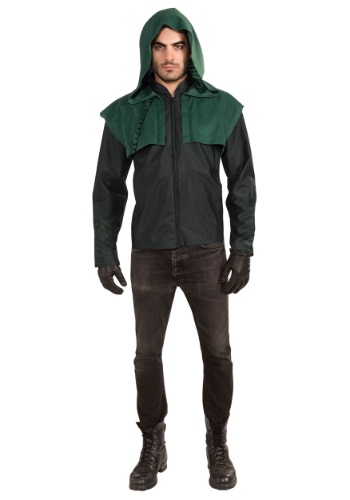 Save your city! And without spending five years on a deserted island, on a prison ship, working for the Russian mafia, and whatever else Oliver Queen got up to before returning to Star City. Sorry, Starling City. (Whatever––we all know it's Vancouver playing Seattle.)Now, the Green Arrow might seem like an also-ran Batman, and the way DC has used the character over the years, it's hard to not see him that way sometimes. I mean, son of an industrialist who saw his father killed and took it upon himself to seek training around the world before returning to save his city from corruption? Outfits himself with the profits and experimental technology of his business empire? Has an ever-growing team of allies and vigilantes-in-training? But where Batman is usually presented as a world-weary rich guy who thinks he can solve the world's problems going out and punching Gotham's lowest class citizens every night, Oliver Queen, despite being born to privilege, is usually a crusader for justice, protecting the downtrodden, an activist and self-proclaimed social justice warrior. And being based on Robin Hood himself, how could he not be? You won't see Batman robbing from the rich and giving to the poor.Green Arrow may not be the most impressive member of the Justice League, but his mere presence should be enough to cement his status as a legend. I mean, if he's on the same level as Superman and Wonder Woman with no superpowers and a bow and arrow… he's gotta be pretty good with that bow and arrow, right? I mean, the bow guy isn't the coolest one in the Avengers either, but sometimes just getting to be part of something is cool.
Material: Polyblend
Item: RU887321
Price: $39.99
Latest Posts
Transform your child into Carol Danvers, aka Captain Marvel, the ultimate hero. The Captain Marvel Deluxe Child Costume will have you saving the day!
Popular Posts
Get into the Christmas spirit with two of Disney's most iconic characters! The Mickey & Minnie Christmas- 14oz Ceramic Mug is officially licensed and microwave and dishwasher safe.