Fashion>>Costumes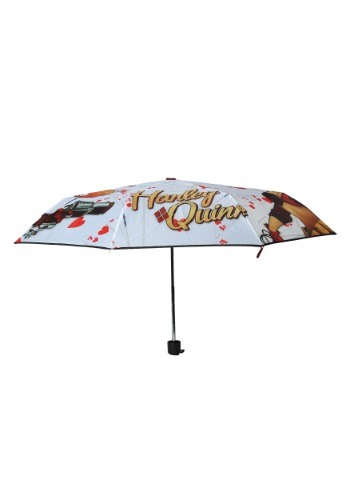 Most people stay inside when it's raining cats and dogs, but not Harley! Everyone knows that she's a bit of an odd duck (okay, she's a really big odd duck), so when it's storming out, Harley goes outside for a brisk stroll through the rain. Whether it's lightly drizzling or really coming down hard, you better believe that you can find the Maiden of Mischief creating havoc while the rain is coming down. The rain makes her more mischievous than ever, if you can believe it! Even though Harley is a nut, she is a good judge of umbrellas and she thinks this one is the best, not only because her face is on it but because it's durable and keeps her dry while she's out stirring up trouble. This officially licensed DC Bombshells Harley Quinn umbrella has a vintage image of Harley Quinn surrounded by playing cards, all hearts. The telescoping shaft is sturdy and reliable. The cord wrist loop and the Velcro binding strap is perfect for carrying with you when you suspect it might rain later in the day.
Material: Polyester
Item: BWTA3Q58DCO00PP00
Price: $9.99
Latest Posts
Inside everyone, is a hero. Show off your inner hero with the Captain Marvel Kree Suit Deluxe Child Costume!
Transform your child into Carol Danvers, aka Captain Marvel, the ultimate hero. The Captain Marvel Deluxe Child Costume will have you saving the day!
Popular Posts
Get into the Christmas spirit with two of Disney's most iconic characters! The Mickey & Minnie Christmas- 14oz Ceramic Mug is officially licensed and microwave and dishwasher safe.