Fashion>>Costumes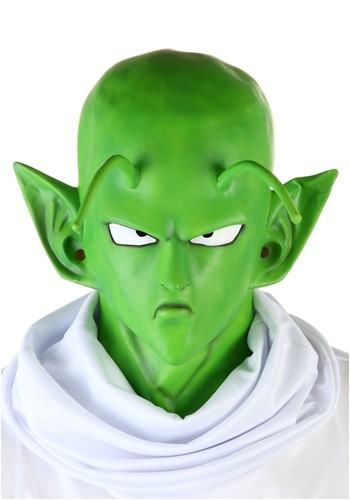 "Stop daydreaming! Come on!" There is only one way to be the center of the room and that is not going to happen if you are just day dreaming about the best costume ever! No, the only way to be the best is to look the best, that's a fact. Another fact is that in this Dragon Ball Z Piccolo Mask, you are sure to ensnare the sight of any person at that annual Halloween party, and who knows, maybe you will win best costume! You can tell by Piccolo's intense stare that he means serious business. We imagine that this is how Piccolo looked at Raditz during the Saiyan conflict right before he unleashed his signature attack. You know the one we're talking about…the Special Beam Cannon. It might take you awhile to build up all the energy you'll need to complete this attack. Just put on this DBZ Piccolo Mask and you'll find it easier to channel the energy. Just imagine Frieza's infuriating face. Once you do, you'll have no problem conjuring all the power you'll need.
Material: Latex
Item: DBZ2221AD
Price: $24.99
Latest Posts
Inside everyone, is a hero. Show off your inner hero with the Captain Marvel Kree Suit Deluxe Child Costume!
Transform your child into Carol Danvers, aka Captain Marvel, the ultimate hero. The Captain Marvel Deluxe Child Costume will have you saving the day!
Popular Posts
Get into the Christmas spirit with two of Disney's most iconic characters! The Mickey & Minnie Christmas- 14oz Ceramic Mug is officially licensed and microwave and dishwasher safe.