Fashion>>T-Shirts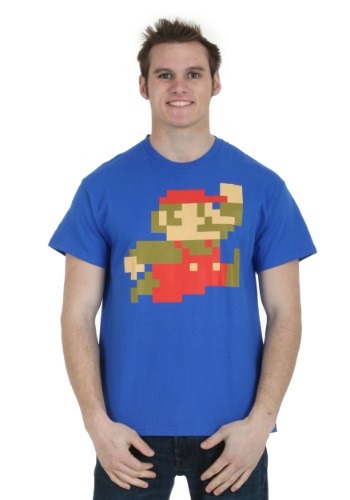 What is more iconic than everyone's favorite Italian plumber and frequent savior of the Mushroom Kingdom? Everyone recognizes the bright red cap and luxurious mustache and a number of us even recognize the now infamous wahooo and it's-a-me! But, those of us who traveled through Mario from the very beginning remember him as fairly literally iconic… like, pixelated! If you've ever entered that first zone of World 1-1 and met your grievous end to that lone, wandering goomba, you understand what real pain is. But, eventually, you learn to leap… to soar… lifting that mighty Mario fist into the air and towards victory.If you can picture it now… and even if you can't… we've got the perfect powerup to help you show off a bit of the vintage look of a Mario from an age gone by. Hop into this Big Little Mario T-Shirt. The blue shirt will look like the boundless skies of the Mushroom Kingdom while Mr. Pixel, himself, leaps up as if to find the secret ?-block hidden just beyond your noggin. And, who can resist that hopeful idea!? Will he find a Power Mushroom? Perhaps a Fire Flower? So long as it isn't a Mr. Star, we're probably OK. Who can deal with exploding everything you touch!? … On second thought, maybe we should just stick with honoring the hero, himself, at least for now.
Material: Cotton (100%)
Item: FSNNTD0074
Price: $6.99
Latest Posts
Transform your child into Carol Danvers, aka Captain Marvel, the ultimate hero. The Captain Marvel Deluxe Child Costume will have you saving the day!
Popular Posts
Get into the Christmas spirit with two of Disney's most iconic characters! The Mickey & Minnie Christmas- 14oz Ceramic Mug is officially licensed and microwave and dishwasher safe.