Fashion>>Costumes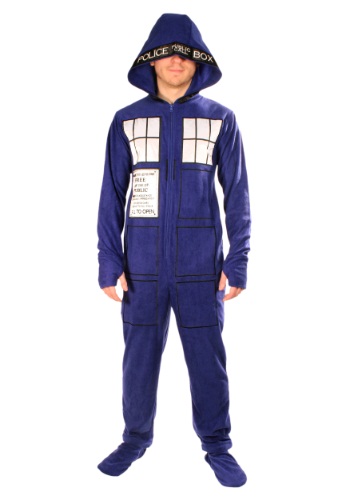 We, as Whovians, can totally appreciate a good Doctor Who outfit. Whether it's a cute Dalek dress, an outfit mimicking any incarnation of the Doctor himself, or even someone with a Sonic Screwdriver t-shirt, we love it. Whether it's an exact replica or not doesn't really matter, as long as our favorite time-traveling Doctor is represented. Of course, as Whovians, we also recognize the need to sometimes lounge about and binge watch a season or two. Sometimes a pin-striped suit and a trench coat simply aren't appropriate (or practical). Sometimes you need to be comfortable, while still showing off your Whovian love at the same time. We totally understand. Which is why we also totally approve of Dalek slippers, TARDIS bathrobes, and giant blankies with your favorite Doctor plastered on it.As such understanding Whovians, we would like to offer our comfy Whovian contribution. Our Adult Doctor Who TARDIS Pajamas are 100% Polyester fleece suit, with a hood, front zipper and attachable booties. There's even anti-skid stuff on the booties and thumb holes in the wrist cuffs! This pajama suit is in a beautiful cobalt blue (just like everyone's favorite police box), with TARDIS windows and police sign embroidered as graphics on the front. In this pajama set, you'll be as snug as the Doctor in his favorite time machine! Or possibly more so, as the pajamas aren't likely to malfunction on you and bring you to an unknown corner of the galaxy. So that's nice.
Material: Polyester
Item: UGDW000459
Price: $39.99
Latest Posts
Transform your child into Carol Danvers, aka Captain Marvel, the ultimate hero. The Captain Marvel Deluxe Child Costume will have you saving the day!
Popular Posts
Get into the Christmas spirit with two of Disney's most iconic characters! The Mickey & Minnie Christmas- 14oz Ceramic Mug is officially licensed and microwave and dishwasher safe.