Fashion>>Costumes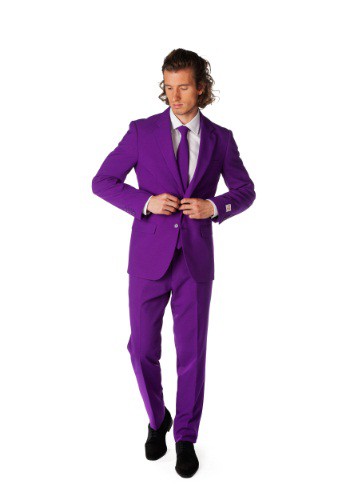 A new suit color selectionWe're sure you've spent time at the store before trying to pick out a new suit. You charge in all excited for a bold new style, but it doesn't take long to remember that the men's store suits look all the same. Gray. Charcoal. Black. Navy. No pizazz, no panache. Blah! We suggest forgoing the store shopping experience, and order this Purple Opposuits suit right here. With a bold purple hue, you'll be able to raise the fashion bar high above those other shades of gray and navy. Get this suit to spice up your formal event or to stand out at work. If purple is your color, that bar will be raised!Fun DetailsThis Men's OppoSuits Purple Suit comes to us from revered suit company Opposuits out of Holland. It's 100% polyester (200% amazing, according to the product label), has a fully lined suit jacket, and the pants are intentionally long for styling with casual footwear. Slim fit designed, it also comes with a matching necktie. You, of course, will have to provide your own dress shirt and shoes, but you already knew that.Fun Times aheadYou might have never known that you were going to need a purple suit, but face it, you do! And this Opposuit is ready to help get you there. With signature design and the perfect color, you're going to have a brand new, fresh, and decidely purple style when it arrives!
Material: Polyester
Item: OSOSUI0027
Price: $99.99
Latest Posts
Transform your child into Carol Danvers, aka Captain Marvel, the ultimate hero. The Captain Marvel Deluxe Child Costume will have you saving the day!
Popular Posts
Get into the Christmas spirit with two of Disney's most iconic characters! The Mickey & Minnie Christmas- 14oz Ceramic Mug is officially licensed and microwave and dishwasher safe.