Fashion>>T-Shirts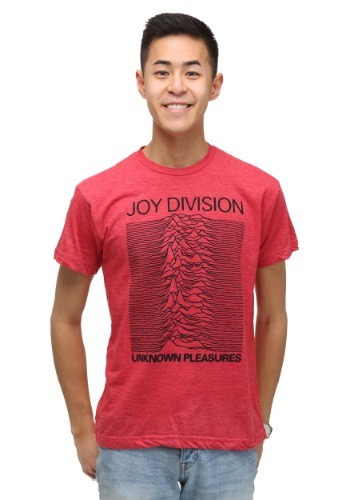 "We fought for good, stood side by side, our friendship never died. On stranger waves, the lows and highs, our vision touched the sky. Immortalists with points to prove, I put my trust in you" While "A Means to an End" may be our favorite Joy Division song from their first studio album, "Unknown Pleasures," they have many, many great songs on the album. Some of our other favorites include "She's Lost Control," "Day of the Lords," and "New Dawn Fades." We just have not been able to get enough of this album since the British band debuted in 1979 – okay, so maybe we haven't all been listening to it starting right at 1979, but we still all appreciate the beauty of this album! Commemorate your love for Joy Division with this Joy Division Unknown Pleasures Heather Red T-Shirt! This withered shirt has a vintage feel and features Joy Division Unknown Pleasures image printed on the front. Joy Division has not yet gone out of style – not that we think that it going to happen anytime soon – and this shirt is sure to stay hip for ages as well!
Material: Polyblend
Item: IM452103
Price: $4.99
Latest Posts
Transform your child into Carol Danvers, aka Captain Marvel, the ultimate hero. The Captain Marvel Deluxe Child Costume will have you saving the day!
Popular Posts
Get into the Christmas spirit with two of Disney's most iconic characters! The Mickey & Minnie Christmas- 14oz Ceramic Mug is officially licensed and microwave and dishwasher safe.